Crystal Arlington becomes
ASCA

Certified

CRYSTAL ARLINGTON BECOMES ASCA CERTIFIED

Lake City, September 2012—The Accredited Snow Contractors Association ('ASCA') announced that Crystal Arlington achieved ASCA Certification along with several of her colleagues as the first group of snow contractors successfully completed the newly launched 10-hour education track. "The association's ASCA Certified program is the result of establishing the first 'industry standards' for the professional snow and ice management industry," said ASCA Executive Director Kevin Gilbride. "The overall goal of establishing standards and a certification process is to lower instances of baseless slip-and-fall claims and to get a handle on controlling insurance premiums. It is believed that the "ASCA Certified" designation, along with ISO9001/SN9001 certifications, will serve as a strong deterrent to litigators pursuing frivolous slip-and-fall lawsuits," said Gilbride.

"I am proud to join other snow industry veterans in this important certification and I am dedicated to continuing education in the field that improves safety standards," said AGMG CEO Crystal Arlington. Arlington was also the first female in the industry to receive dual certification as a PLANET Landscape Industry Manager and Certified Snow Professional with the Snow & Ice Management Association.

Affiliated Grounds Maintenance Group, Inc., headquartered in Lake City, PA, has grown to encompass work in 39 states with over 4700 Affiliated Partner Contractors. The company provides exterior maintenance services including landscape maintenance, snow and ice management, lot sweeping and power washing to some of the country's largest companies and property management firms. For more information on Affiliated Grounds Maintenance Group, Inc. visit www.agmgus.com or (866) 923-2464.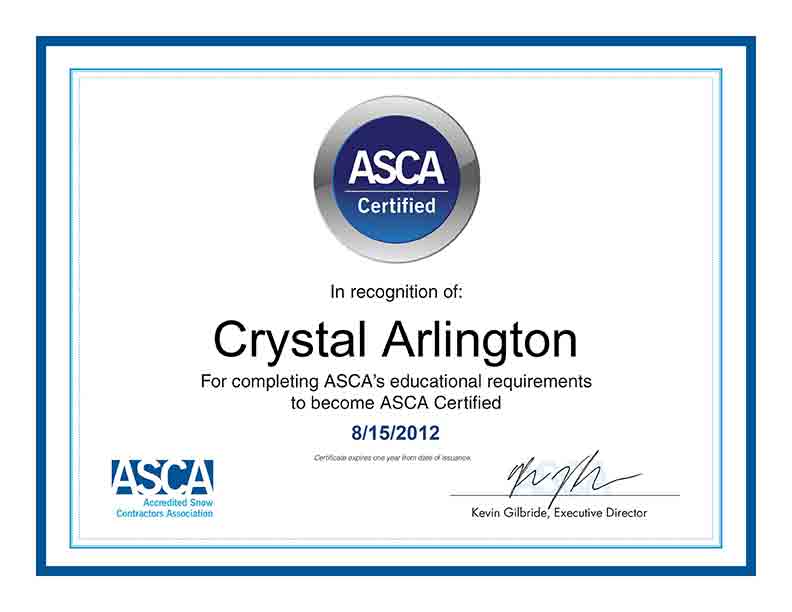 Click for larger image